Jiggley Jones Enlists Wife And Kids For "Ain't That Alright" Music Video, To Be Released Monday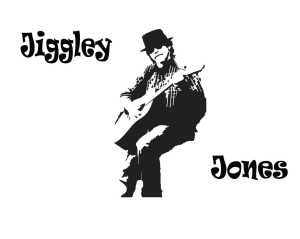 MTS Management Group is proud to announce the release of the new music video from client, Americana/Alt-country Singer-songwriter, JIGGLEY JONES. The video for "Ain't That Alright" will be released on Monday, July 29, 2013 via Jones' Youtube channel at http://www.youtube.com/jiggleyjonesmusic. The video is the second from Jones' debut EP, No Spring Chicken. His first, "Baby Blue" has received more than 139,000 Youtube views, since it's March release.
The video for "Ain't That Alright" was shot earlier in July, in East Fallowfield, PA. It features starring roles for each of Jones' three young children, Avery, Alivia, and Wes (Wiggley,) who are shown playing and dancing throughout. The Jiggley Jones-directed video also includes footage shot by Jones' wife, Tracey.
"We wanted a video that would not only capture the feeling of the single, which is starting to take off at radio for Jiggley, but we also wanted to show him and his kids in their element," says Jones' manager, Michael Stover of MTS Management Group. "Jiggley's got a real love for his kids, and in fact, all kids, as he is active in children's charities. So, we were looking for a way to incorporate that passion into this quirky, cute video. I think people will really connect with the family affair.
Jiggley Jones is based in Coatesville, PA. His EP, No Spring Chicken has received international airplay, reaching #21 on the Roots Music Report chart. The single, "Ain't That Alright" is currently #90 on the International Broadcaster's Association radio chart. He recently performed at CMA Fest, and he will perform at The Bitter End in New York City, next month. For more information, visit http://www.jiggleyjones.com.